The Leadership Centre understood exactly what we wanted from a leadership programme: something organic and cooperative around authentic leadership, systems thinking, framing, narrative, and taking people with you. It was a natural fit.
Leading in complex and uncertain times
Plymouth is a city with ambitions. The council's political and managerial leadership, together with its partners in the city, has set a target to increase its residents by nearly 40,000 by the year 2031 – because city economies work better with population sizes of more than 300,000. To boost the city's prosperity, it plans to grow existing businesses, as well as attract new ones to the city region. And it has no intention of leaving anyone behind, furnishing every citizen with a quality of life they can comfortably call high.
But Plymouth – like many urban places – is a city of two halves. Not so long ago it recorded a difference in life expectancy between the most and least well-off neighbourhoods of almost 14 years. One in five children lives in poverty, and barely more than a fifth of the children who don't make it to a grammar school get five good GCSEs. An emerging and troubling problem for the city is the number of residents over 50 who are living with ill health.
The ambitious Plymouth Plan was born not long after the authority won Council of the Year in 2010, testimony that they were getting the basics right. Chief Executive Tracey Lee said: "It was time to look over the wall – fundamentally change our relationship with partners and our residents. We needed to become a big player in the region and see what we could do collectively. But that wasn't something we'd ever done before."
Tracey had learnt about placed-based relational leadership on the Leadership Centre's flagship Future Vision programme and came to realise that for the kind of enduring life changes the council and its partners had promised its citizens – at a time of massive downsizing, serious financial gaps and complexity beyond anything they'd ever known where best practice was floundering – the whole of the council's leadership team would need to dramatically change how they thought and worked.
It was the Leadership Centre that helped us to articulate the place-based system narrative for public health and helped us to think about what's in it for others . . . We couldn't have achieved what we have without the Leadership Centre – possibly some of it, but not as quickly or as well as we've done it . . . It was like being guided remotely.
"I wanted us to understand authentic leadership in the modern world, consider what it looks like and what we need to do to take the scales from our eyes so we can move from thinking structurally to working across whole place systems where we don't have all the levers. I wanted us to spend time together exploring wicked issues, unpicking things, learning and developing as a team. I also wanted to give ourselves permission to take time out of our hectic schedules to learn about cutting-edge, funky things going on across the globe, and to chew on critical issues, like what the digital world would look like in five to ten years' time and what we had to do to prepare for it," she said.
Selecting the right kind of leadership developer
It began with a competitive process and a three-strand brief: leading across systems (whole place leadership), developing a high-performing team, and individual development.
---
Head of Organisational Development and Talent, Guy Dickson, said: "We were looking for a team that could come in from day one and be taken seriously by senior leaders. They had to be able to elicit difficult conversations, and they really needed to know their systems leadership.
"The Leadership Centre stood out because they were able to refer to real place-based systems leadership work with senior leaders and demonstrate the impact of it not just elsewhere in the country, but from a Local Vision programme here in Plymouth and the wider region.
"Part of a basket of deciding factors was the Leadership Centre's detailed knowledge of the political world in which we operate, right down to what it's like working in an administration with a slim majority."
---
New ways of thinking, behaving and being: the leadership approach
The Leadership Centre's two-year longitudinal programme bypassed run-of-the-mill leadership development. Instead the content was co-designed and dynamic so it was – uniquely – focused on developing the team in relation to their place and responded as much to the changing needs of the place as it did to those of the team. The programme's core territory was an exploration of how leaders think about their role and how the dynamics of leadership work in practice.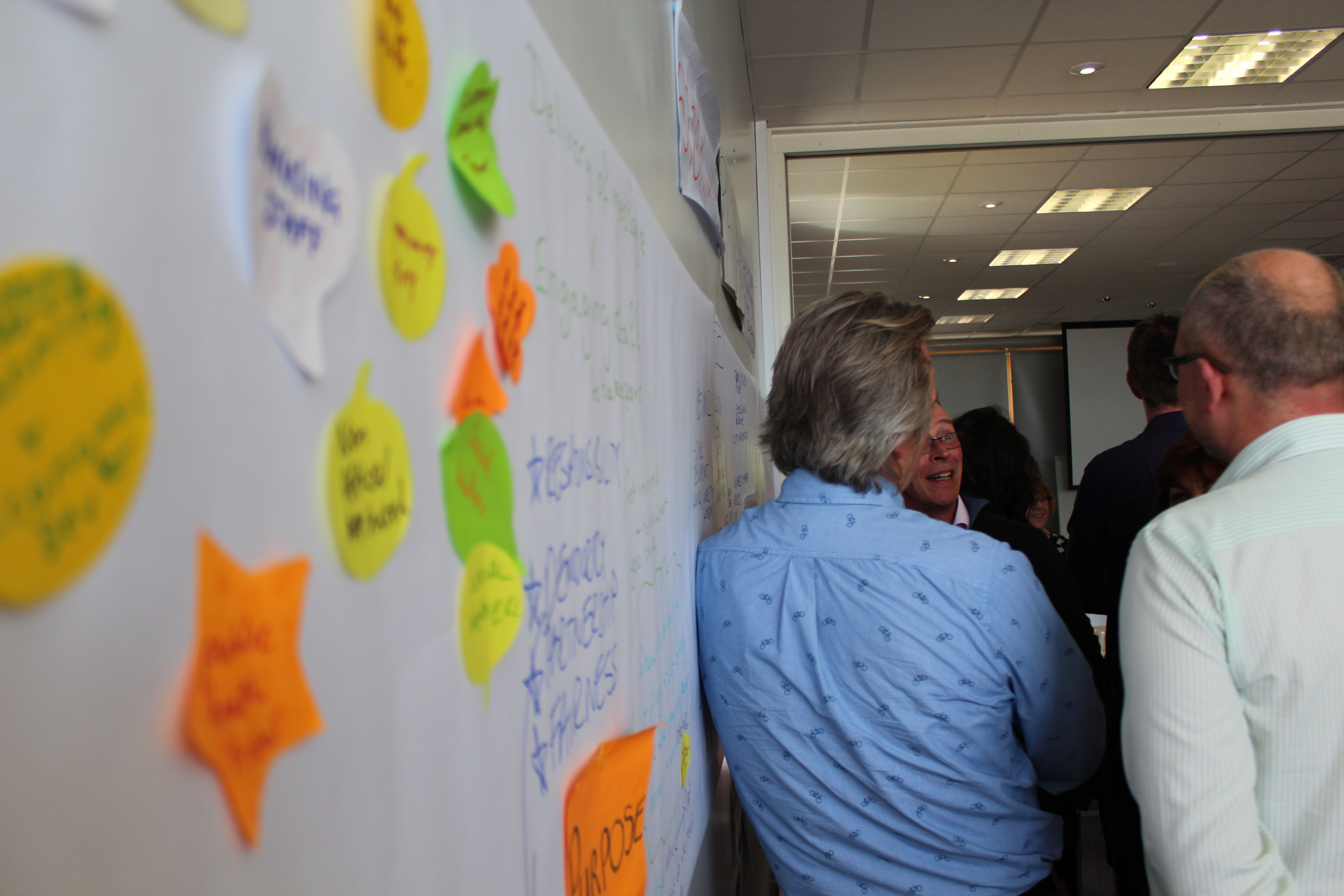 Themed one-day monthly sessions were rooted in the pedagogic principle of learn, reflect, and act. This gave participants the chance to explore live messy, recalcitrant social issues in their place using their new learning under the guidance of three of the Leadership Centre's world-class enablers, selected for Plymouth based on their experience of place-based leadership development, relational leadership (complex systems thinking) and making change happen.
Theoretical content was crafted using models conceived by some of the greatest thinkers in and outside of leadership development around – among other topics – whole place systems thinking, social movement, group dynamics, public narrative and culture, perspectives and framing, personal and collective resilience, and having productive conversations. Some of the greatest living practitioners in the world were also brought in to give talks about how they delivered lasting change in their public service arena. Whatever the topic, each session was a mix of input, exercise and free-flowing large-group conversations dictated by participants.
Big movements of change: the results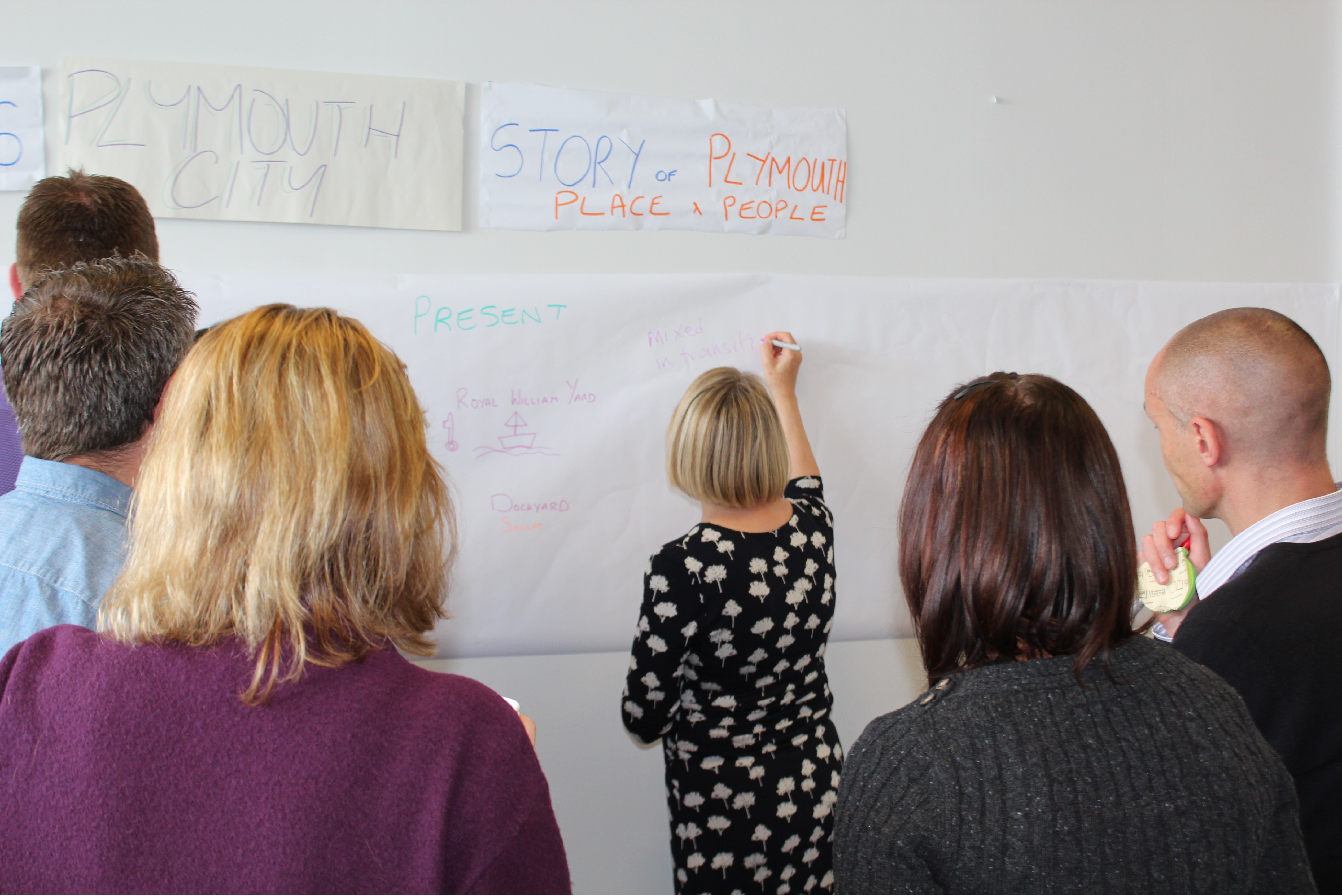 Over the course of the programme in Plymouth, there were a number of significant breakthroughs led by participants in the programme. These measurable outcomes had a direct benefit on the wellbeing of people in Plymouth, including the following:
• A three-year reduction in the life-expectancy gap between Plymouth's richest and poorest.
• Integrating health and adult social care to produce the country's largest citizen-focused cradle-to-grave service.
• Savings of £9.2 million and £6 million in two consecutive years respectively in the health and social care budget. Savings of £3.5 million in Customer Services, with a 50 per cent increase in effectiveness despite fewer staff.
• Citizen-focused service transformation: Early Gateway preventing children falling into social care; Place of Safety preventing children and adults being held in police cells under mental health laws; support system helping elderly people back into their own homes instead of finding themselves hospitalised.
• A 45 per cent increase in recycling rates across the city.
Leading in a system:
"A seminal moment was when we looked at the council in relation to the history of Plymouth the place through a collective reflection process. It was a powerful day discovering how Plymouth had changed and was changing and the levers that were available to us to shape that change, including why something might be difficult to achieve because of the history. Learning that you can really shape what's going on in a complex, chaotic environment is a powerful feeling to take out into the world. The whole team has referred back to it again and again. I led the same exercise in my own directorate. All of a sudden there was a click as it dawned on us that though we were made up of multidisciplines with a very different working ethos, what connected us was place."
Kelechi Nnoaham, Director of Public Health
"Another watershed moment was when we told the story of place from our own point of view. As a result we can all now place, for example, the service integration story wholly into the context of our ambition for the city, relating the impact of the work done on the ground for vulnerable people to jobs, housing and investment, as well as the other way around. We can say it's great you're building a house because the impact is here on this woman and child. We now have joined-up conversations around what the opportunities are to build something for citizens. We have a really good story, for instance, around bringing in eight new extra care housing support schemes, because if you get the support right, you can prevent our previous high levels of costly residential care."
Carole Burgoyne, Strategic Director for People
"We've developed a common language with which to discuss and understand what the situation looks like in the city. And once we had that, we could start to have conversations about what was stopping us from making progress."
Tracey Lee, Chief Executive
High-performing team:
"We're always on a journey as a leadership team, but in comparison to where we were before, we're really engaged and we feel like we're solving problems."
Tracey Lee, Chief Executive
"We've had national recognition for our progress: great feedback in our latest peer review, especially around how joined up the leadership team is. And we made it to the finals of the latest Council of the Year award."
Dawn Aunger, Assistant Director for HR and OD
Individual development:
"It's reinforced for me that you have to look at things differently. As a leader you have to find ways to create the environment for people to deliver better outcomes."
Carole Burgoyne, Strategic Director for People
'I've learnt the mindset you need as a leader in a system is very different to that needed when you have a burning platform. You have to find a rationale for change that's sufficiently gut-engaging, so people can start to move in the right direction."
Kelechi Nnoaham, Director of Public Health
Enabler observations
Our whole-place, systemic interventions are delivered over an extended period of time by a small team in situ made up of world-class leadership enablers, who typically have at least 15 years' experience in leadership development, whole place leadership (systems thinking) and making change happen.
Systems leadership: "A big shift in the team's thinking was around how they lead across their place in a way that not only brings together a variety of organisations, partners, agencies and systems, but does it so it's much more focused on the citizens of Plymouth and what their needs and aspirations are. There is now greater capacity amongst the team to be operating in this way, which is more likely to meet deeply entrenched challenges."
Being able to have difficult conversations in a professional and challenging way with expert facilitation in a protective environment has given us a great opportunity to do something about the issue and move on. The leadership sessions allow us to work on these as a whole group. We're now working much more collaboratively as a result.
High-performing team: "In one memorable session there was this tension in the conversation all day between those coming from the expert perspective, who wanted to make a particular case for a narrative which they saw as a compelling starting point, and others, who were challenging them over for whom it was compelling. They wrestled with it all day. It demonstrated that there was more capacity than at the start of the programme for them to speak to each other across disciplines and departments and see themselves as having a shared interest in whatever corporate priority it might be. It led to some opening of minds."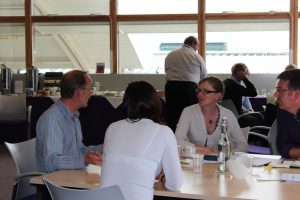 Individual development: "One director wholly restructured his massive and newly configured department using material we explored together in coaching sessions around distributive leadership, creating a multi-stakeholder environment where multiple perspectives can be worked on, and how to give that organisational form. He came up with an interesting structure that was both horizontal and vertical. He had drawn a multidisciplinary team from professional areas of shared work, as well as a formal, supervisory manager structure. We used the coaching sessions to explore how it was working in principle and practice, to reflect on where he'd got to and where he was going next."
This major transformation has only been possible thanks to the leadership work that we've been doing. It has allowed us to see things in a completely different way. Without the Leadership Centre and the systems leadership journey, this simply would not have happened.
If you found this section useful, you may also want to explore the following areas of our work: