Places are available on an innovative leadership development programme for anyone in Further Education who needs to work in partnership. The Programme is being co-delivered by Leadership Centre systems enabler Di Neale during January – March 2020.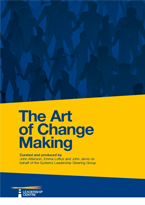 The Art of Change Making has now been transformed into an online interactive resource, exploring the connections between the theories and practices we use and providing a snapshot of each approach
WELCOME TO THE
LEADERSHIP CENTRE
"Great Leaders, Great Places"
The Leadership Centre exists to build leadership capacity across the public sector. Drawing on a wide variety of approaches, and with experience spanning the full range of UK localities, the Leadership Centre is committed to advancing leadership and connectivity in solving complex problems.