Change Selection
01
Please choose a question CULTURAL WEB
Johnson and Scholes
The Cultural Web is a tool used to map the culture of an organisation and is a
way of seeing and understating the different influences that affect organisational
culture. It can be used to map existing culture and it can also used to map future
culture based on the question: 'What does the culture need to look like to make
this change happen'? The two maps can then be compared in order to promote
discussion and highlight what, where and how change can be implemented.
Mapping culture is useful in three ways:
Surfacing: how and why things are done.
Barriers and alignment: highlighting sticking points and supporting factors.
Planning Changes: planning future actions and changes.
Creating the Web
The Cultural Paradigm is the core of the web. The paradigm is the core beliefs
and motivations of the organisation. It is supported by six cultural influences:
Stories: How an organisation understands and explains itself.
Rituals and Routines: The accepted norms and practices.
Symbols: Physical artefacts. The unofficial and official representations of culture.
Organisational Structures: Formal structures and hierarchy, as well as the
informal routes of power and influence.
Power Structures: The people and the systems who have the power to get things done.
Control Systems: How an organisation controls how things are done.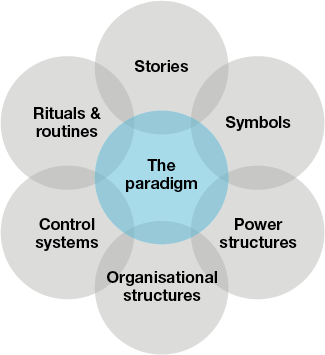 Further Resources
Gerry Johnson from Strategy Explorers writes about 'Cultural Web' in this paper
'Mapping and Re-mapping Organisational Culture: A Local Government Example', view it online here.