Join our new immersive programme – Leading the Impossible
Are you trapped in a cycle of trying to lead the seemingly-impossible? Do you find yourself papering over the cracks when you know that the challenges in front of you need real and long-term solutions?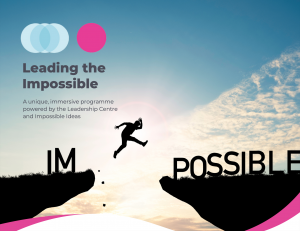 We are launching a new experimental, immersive programme designed to support leaders to drive radical change in stuck systems. Whether your focus is net zero, children's services or mental health you will know that the systems we have need more than just incremental reform.
We know that you don't need more training that gives you 'a-ha' moments only for you to hit brick walls when you get back to your desk. That's why, together with Impossible Ideas Inc, we've designed 'Leading the Impossible', an immersive experience which will help you to build and practice habits which sustain more radical work.
We'll blend approaches from the fields of imagination, game theory, risk and habit forming in ways that will see you getting stuck in, feeling challenged and having fun. Grounded in the context of working in localities, the programme will be as much about bringing out the collective wisdom of the group as it will be about learning new skills and ways of doing things.
'Leading the Impossible' will be co-designed with you but it universally promises to help you identify where your thinking is trapped or stuck, and develop new tools and techniques to shift out of this. You will ultimately experiment with leading change in a way which creates genuinely new possibilities.
Our pilot cohort will be made up of public service leaders from across the country and professional disciplines operating at Director level or equivalent. We find that having a varied and diverse cohort brings rich benefits to all those taking part, introducing us to different perspectives but also shared experience of challenges that enable powerful peer learning. If you join us we expect you will meet a group of like-minded peers who will become a trusted network of support both during the programme and beyond.
So if you are looking for a developmentally stretching programme and are ready to think again about dearly held assumptions, behaviours and beliefs acquired over the course of an already successful career, Leading the Impossible is for you.
The first pilot cohort will take place between February and May 2024 and is delivered in partnership with Impossible Ideas Inc, Coney and Canopy. If you would like to joint the first cohort of this exciting new programmes, please get in touch. Full details can be found here.